The Christmas Tag
OMG, IT'S CHRISTMAS TOMORROW!! Hope you have a great Christmas :)
Yes, I know I did The Christmas Tag last year, but this one is a different set of questions. So this is 'The Christmas Tag 2016 Edition'.
🎄🎅⛄
WHAT'S YOUR FAVOURITE CHRISTMAS FILMS?
My favourite has to be The Muppets Christmas Carol. I have watched it since I was young, and it's just great. I also love Elf, Jingle All The Way (if you've been reading my recent posts, you would know I was watching that in November haha), and The Polar Express.
HAVE YOU EVER HAD A WHITE CHRISTMAS?
We get a thin layer of snow, but its nothing fun (not really enough to make snowmen). So it's just cold and causes traffic jams because in England we can't cope with the tiniest amount of snow.
WHERE DO YOU USUALLY SPEND YOUR HOLIDAY?
At home. I know some people like to go away for Christmas, but to me, Christmas just would not feel the same on a hot beach.
WHAT'S YOUR FAVOURITE CHRISTMAS SONG?
In my last post, I did a
Christmas Playlist
with all my favs, so I'm just going to promo that post haha.
DO YOU OPEN ANY PRESENTS ON CHRISTMAS EVE?
No. Well, not any main presents anyway. Sometimes we might get a little present from the neighbours so we might open something like that a little early.
CAN YOU NAME ALL OF SANTA'S REINDEER?
I'm struggling here to name even a couple haha. Obviously, I can remember Rudolph, but that's about it.
IS YOUR CHRISTMAS TREE REAL OR FAKE?
Fake. But I would love a real tree, to be honest. We've decided only to have a mini tree this year. To be fair it does look nice, it's a lot easier to decorate, and doesn't take up loads of room. We also have a mini train going around the bottom which is cute.
WHAT IS YOUR FAVOURITE HOLIDAY FOOD / SWEET OF ALL TIME?
I'm a really fussy eater, so it's nothing like Christmas pudding or mince pies. My meals/treats stay pretty much the same. I do quite like gingerbread, which is kinda Christmassy?
BE HONEST: DO YOU LIKE RECEIVING OR GIVING GIFTS BETTER?
Both! I'm not gonna lie, I love receiving presents, but I love giving them too.
WHAT IS THE BEST GIFT YOU'VE EVER RECEIVED?
I can't really pin it down to one gift. I have always been very lucky and got the main present I wanted (thanks, Santa 🎅). So every year has had a good gift.
I sound like such a spoilt brat.
WHAT WOULD BE YOUR DREAM PLACE TO VISIT FOR THE HOLIDAY SEASON?
I know earlier I said I prefer to stay at home for Christmas, but New York. I mean, New York just looks like an amazing place - and it's not a hot sunny beach so it would still feel like Christmas.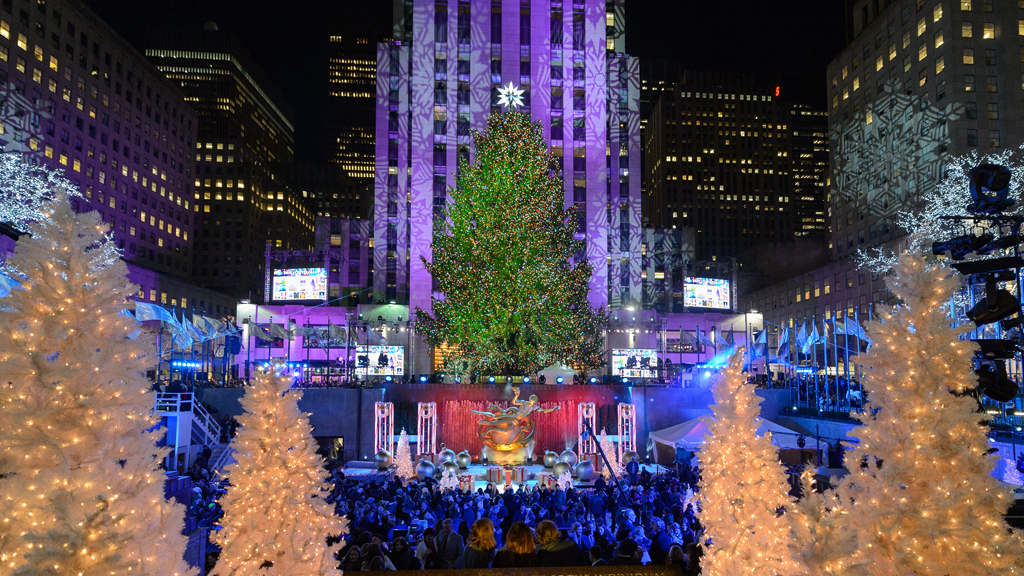 ARE YOU A PRO PRESENT WRAPPER OR A PRO FAILURE?
Pro Failure, without a doubt! When possible, I take the easy route and use gift bags.
Here is an example of my wrapping from earlier this year for my sisters birthday. Don't laugh...
And that's The Christmas Tag 2016 complete.
I hope you have a wonderful Christmas and I'll see you again in the new year!
I'd love to see your answers, so feel free to answer them in the comments :)
---------------------------
Enjoy reading this blog? Make sure you follow on BlogLovin so you know when I publish something new!
Follow